Love is in the air—and on the minds of a handful of designers who are wearing their hearts on their sleeves with some design projects that pay homage to all things romantic. In celebration of that sentiment (and fitting for the month of February), we gathered some of our favorite projects we're head over heels for right now.
What's Your Sign?

Annica Lydenberg, the designer behind the graphic design shop Dirty Bandits, created a sign-painting series called Love for Sale. She was inspired by old showcard sign paintings and store window advertisements.
"For those of us who are single, these signs comprises a sales pitch highlighting well-honed skill sets, and the promise of romance with a witty edge," she says. "For those who are in a relationship these signs will keep the spirit alive." There's a video that showcases the process behind making the signs that we love, too.
Lost in Translation
House Industries created this set of four blocks that features the word "love" rendered in 12 different languages (including Hebrew, Swedish, Arabic and Korean). Each block is handprinted onto kiln-dried basswood and features embossed hearts and heart-shaped puzzles. No matter how you say it, we love them!
Steampunk Sentiment
Dennis Fuentes, a Canadian designer and illustrator, created this limited-edition Valentine's Day card that intentionally appears simple from the outside, but when you open the pages, you find an intricate, Steampunk-inspired card. Created by hand, he says, "The toy theatre frame was added not just to soften the rather industrial nature of Steampunk, but also to give it a kind of Guignol puppet show/Moulin Rouge-ish twist."
Just My Type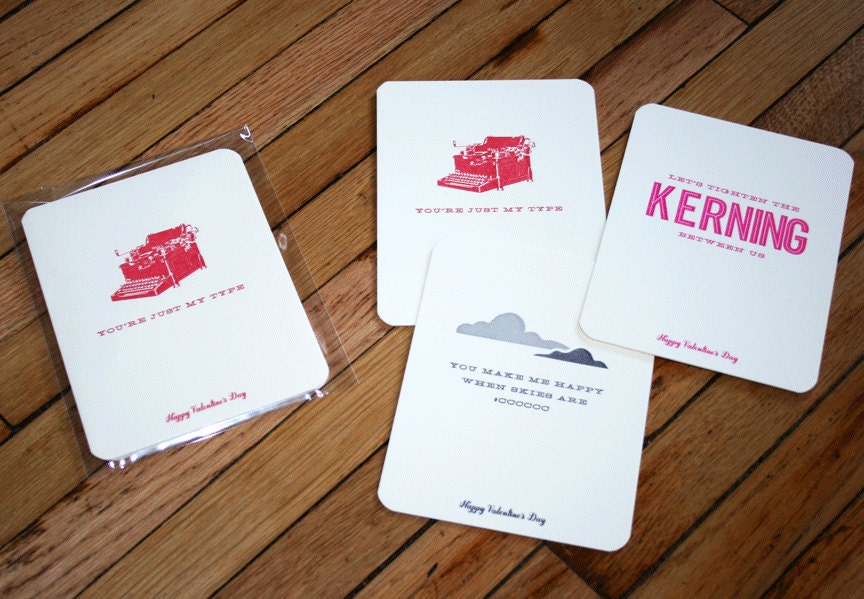 Angela Ferraro-Fanning, a designer in Bernardsville, NJ, runs 1331Design. For the shop, she created a trio of Valentine's Day cards that are perfect for showing a creative how much you care by speaking their language. Sayings include, "You're Just My Type," "Let's Tighten the Kerning Between Us," and "You Make Me Happy When Skies Are #CCCCCC."
Feminine Fragrance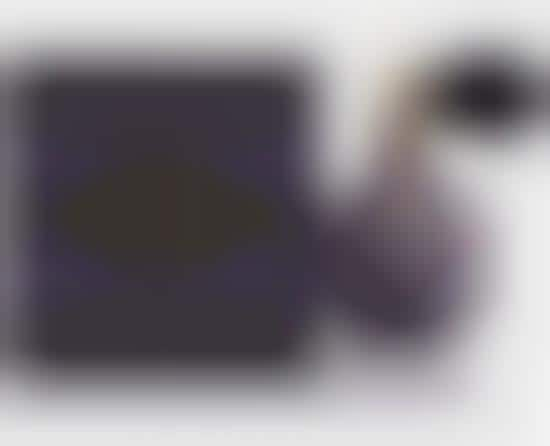 The Beardwood&Co. design team was tasked with creating packaging for the La Seduction fragrance from La Senza. To reflect the sexy, feminine qualities of the perfume, they created a hand-drawn black lace pattern, reminiscent of lace stockings, that wraps around the bottle and is enhanced by embossing and varnish techniques across the packages. The La Seduction cartouche acts as the center of a garter band cinching the entire package, and a vintage-style atomizer completes the look.
"The challenge," according to creative director Sarah Williams, "was creating something completely fresh, unique and relevant. There is a perfect balance of classic femininity and sexy confidence inspiring the customer to experience the product themselves or as a gift for someone special."
Art with a Heart
Graphic designer Stefan Bucher takes a microscopic look at love in this collection of Valentine's Day postcards entitled, "Love Cells." Bucher says, "Love changes everything. It makes your whole body recreate itself into a better, sweeter you. Love gets into your cells."
The collection includes 10 hand-drawn designs made up of tiny, barely perceptible hearts, and all the cards can be arranged in various configurations to create one large pattern. All the proceeds from the sale of the cards benefit ShelterBox.