There's one way to get the New Year started off on the right foot: Finding a cool calendar that will help you stay creative all year long. We went in search of the best new designs and gathered up our favorite inspiration-inducing calendar designs in all shapes and sizes for your wall, desktop or pant pocket. They boast lots of hand-rendering and handmade elements and new spins on old treasures. There are pretty palettes and striking typesetting. Above all, there is plenty of artistry to last and inspire you, the whole year through.
Here are the ones that are at the top of our wishlists this year:

365 Days of Fonts Desk Calendar, $25
Font fanatics will fall in love with this calendar: The daily, tear-off calendar spotlights a different font everyday with details about the development and design of each one on the back of each page. The fonts featured were created by 232 designers and foundries from 26 countries around the world, including ones such as "Granny's Bear Hunt" (August 9) and "Rock Paper Scissors" (December 3). The calendar, designed and printed in Germany, is edited by Lars Harmsen and Raban Ruddigkeit.

Circular-Format Tea Towel Calendar, prices start at $17.50/yard
Amy Peppler Adams designed the first iteration of this calendar for 2012, when it seemed like everyone was talking about the Aztec calendar and its prediction that the world would be ending. "I thought it would be a fun challenge to adapt our modern calendar to a circular format like the Aztecs'," Adams says. "I also thought the idea of putting the dates in a circular format reflects how we exist in time: Even though we move forward, the months and days repeat each year, as though we're constantly moving in a circle. So I took some additional inspiration from zodiac calendars and sundials, and added my love of wood type and typographic ornaments to give it a playful and celebratory feel." That original design placed first in the Spoonflower Fabric-of-the-Week contest and continues to be one of Adams' bestsellers, so for 2014 she updated the color scheme, including this vibrant, autumn-inspired one.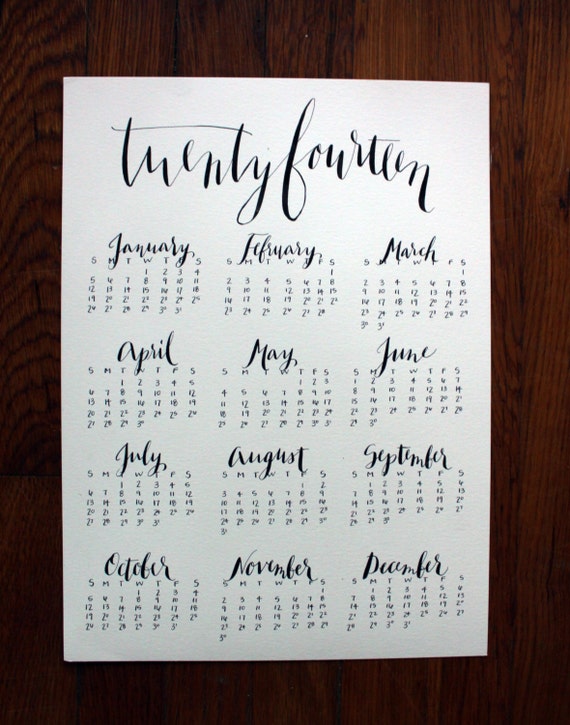 Wall Calendar Drawn Completely by Hand, $35
Jenn Gietzen, an Atlanta-area designer, letters each and every calendar by hand. "I wanted each one to be unique; each calendar to be it's own piece of artwork," she says. "Hand lettering each one causes them all to be distinctive in their own little way, which I love. As time-consuming as it is, it's worth it to me so that each one is different." It takes her about 45 minutes to draw one of these one-of-a-kind calendars. (Photo by Morgan Blake)

Matchbook Calendar, $8.00
Always have the date at your fingertips with this pocket-sized, matchbook calendar, which has become an annual design project from Inkello, run by designer Christine Schneider, who is best known for her work as a children's illustrator and author. This her fifth year creating matchbook calendars, with a limited edition of 180 of these calendars available. "This year's cover design plays off the shape of the four in 2014," Schneider says. "I have fond memories of making calendars as a child with my extended family in my grandfather's print shop. I wanted to carry on the tradition in my own way when I started my little letterpress studio." Hand-printed on a vintage letterpress, each of the calendar's pages are perforated so they can easily be torn out with each passing month.

Pieces & Patterns Calendar, $25
The inspiration behind this hand-painted wall calendar is a nod to the gorgeous geometry and precise pattern-play evident in quilts. "Quilts are such a traditional way of piecing patterns and colors together, and I wanted to put my own spin on it by using the idea of quilts in a more non-traditional way," says the calendar's designer, Carrie Shryock. "The calendar appeals to not only people who love quilts but anyone who is attracted to good design and color." The hand-drawn designs are a nod to various quilting patterns, both modern and traditional, and incorporate brilliant colors that are each hand-mixed to perfection by the team at 1canoe2, a letterpress shop that was created by childhood friends, Carrie Shryock and Beth Snyder.

Celebration Wall Planner, $25.16
See your year ahead at a glance with this pretty wall planner. The year is laid out in a circular design with whimsical, vintage-inspired illustrations befitting of each month (a clock striking midnight for January, a pile of Christmas presents during December) drawn around the perimeter. The illustrations and much of the typography are hand-sketched and inked by UK-based graphic designer Sam Osborne. And, when the year is over, the reverse side of the calendar can be used as a poster, so that you can continue to enjoy it for years to come.

Letterpress Desk Calendar, $40
This calendar, perfect for your desktop, features monthly 4" x 4" calendar pages displayed on a wooden stand, hand-crafted from solid maple. Each page's design features a unique arrangement with the dates in a dial around a central image (rather than in the traditional calendar grid). What is truly unique about this calendar, though, is evident when you touch it: It is printed with a vintage platen press onto eco-friendly paper that is made from 100% cotton textile scraps, giving it a soft, silken texture—perfect for the two-process letterpress printing on each page.

Silly Holiday Calendar, $12
There's a day set aside to celebrate almost anything—from dressing up your pet to donning your fanny pack. This calendar, created by Brooklyn-based design firm Dirty Bandits celebrates all those silly (but legitimate) holidays with a healthy dose of humor and a whole lot of beautiful hand-rendered lettering and illustration. Each month spotlights one such holiday, from "Boom Box Parade Day" on July 4 to "Bathtub Party Day" on December 5. Annica Lydenberg the graphic designer and lettering artist behind Dirty Bandits, says of the inspiration behind the calendar, "For me, humor and banter is something I strive for constantly in all my interactions and this was a chance to put it into my work, too." It was also a chance for her to put to work her love for lettering, too. "I love how limitless hand-lettering feels," she says. "Unlike when you're on the computer and you have only the fonts on your machine you can draw anything at all. You can also use loads of different tools to create, it's not just beziers and points."

Hand-Script Tea Towel Calendar, $25
Each year, Avril Loreti sits down to create a new calendar design to print on tea towels. Of the process, she says she looks forward to it as one of her favorite designs she gets to work on every year. That's because when she sits down to create the year's design, she strives to incorporate the colors and imagery that she thinks will best represent the upcoming year. Hand-drawn lettering is a signature part of her annual designs and she takes great effort selecting the final scripts. "By the end of the drawing session I have piles of sheets of paper with hundreds of words to choose from," she says. "It's a really great meditative process that makes me reflect on each month and what it's brought in the past and what will come in the future."

Modern Geometric Calendar, $18.00
"I have a dirty little secret, which is that I'm not exactly an innate illustrator," says designer Mariana Durst. "I can draw, but it takes me ages and the result is often not what I envision in my mind. I use geometric forms to abstract the images I see." That has given way to beautiful scenes constructed out of a medley of geometric shapes, giving each image an unexpectedly modern vibe, as evident in this monthly calendar that collects a variety of her designs. One of her favorites is captured in the month of March, which depicts a sailboat that was inspired by a similar drawing her grandmother had drawn. "She was inspired by a drawing my grandfather had made on a simple piece of paper when they were just married, which signified the voyage they were embarking on together. My grandmother drew that same boat but closer to the shore, signifying the near-end of their journey together. That print connects me to her."